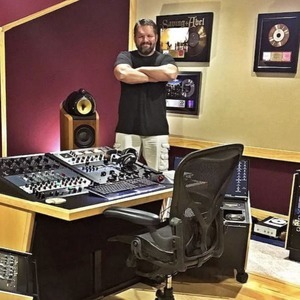 Brad Blackwood
Special guest
"Grammy award and Pensado award winning mastering engineer Brad Blackwood started recording in high school, working with several of his friends' rock n' roll bands. Even as he attended college he was drawn to music, selling hifi equipment at local shops. The more he learned about the reproduction of music, the more his desire to work in the recording industry grew. He chose to learn the basics at Full Sail, then moved to Memphis and began honing his skills as an engineer at the legendary Ardent Studios. After spending several years learning the ins and outs of recording and mixing, Brad turned his focus on resurrecting Ardent Mastering, a division which had closed years before. His success was immediate as he learned under and cultivated working relationships with producing and engineering greats such as John Hampton, John Fry, Jim Dickinson, Skidd Mills, and Jim Gaines. "It was a great learning experience, being thrown into sessions with such amazing producers and engineers. These guys had worked with everyone in the book so I had to get it right the first time."
In 2003, Brad decided it was time to expand the service he offered his clients and the result is Euphonic Masters. His client base followed, allowing him to continue to work with a wide variety of artists including Maroon 5, Lamb of God, Korn, Alison Krauss & Union Station, the Black Eyed Peas, Sara Bareilles, Sick Puppies, Thursday, Saving Abel, the North Mississippi Allstars, Sister Hazel, and many more.
Over the course of his career, Brad has had the opportunity to work on a number of acclaimed projects, and in 2012 he became the first mastering engineer ever awarded the Grammy for Best Engineered Album, Non Classical for his work on Alison Krauss & Union Station's Paper Airplane. In 2014, Brad was also honored to receive the first ever Pensado Award for the category of 'Master of Mastering'." - Euphonic Masters > About
Brad Blackwood has been a guest on 1 episode.
July 18th, 2018 | Season 1 | 58 mins 38 secs

audio, audio engineer, audio production, mastering, mastering engineer, mixing, music producer, producing, recording

Matt and Sam have the honor of interviewing Grammy Award-winning and Pensado Award recipient Brad Blackwood of Euphonic Masters (Memphis, TN).